Want to know more about why Sycamore Township voters need to Put the Trust Back in Trustee? Here are some more details about what's gone wrong in our community:
The Ohio Ethics Investigation into Possible
Self-Dealing and Improper Influence
In 2017, Denny Connor signed a SETTLEMENT AGREEMENT with a SPECIAL PROSECUTOR to resolve an ETHICS INVESTIGATION into possible IMPROPER INFLUENCE (RC §2921.42(A)) and SELF-DEALING (RC §102.03(A)) violations relating to the Township Festival beer sale concession. The Settlement FORBID THE USE OF MONEY from future beer sales in future campaigns and even FORCED HIM TO QUIT the Sycamore Township Republican Club. CLICK HERE FOR MORE DETAILS.
The Broken "Perpetual" Barrier Promise
Denny Connor agreed 5 years ago that a "PERPETUAL BARRIER" would protect homes from COMMERCIAL CREEP on Kugler Mill Road. But in 2019, he STAYED SILENT when a developer wanted to BUILD A TOWER and parking lot across it into residential land. Full story in the video below.

The Facts: Mr. Connor was ready to ignore a commitment he made to protect homes from commercial creep — one which he either forgot about or hoped we voters had. Early in 2019, he worked to get neighbors to give in to rezoning to allow construction of a 4-story tower which he didn't tell them crossed a "perpetual" (permanent) buffer he'd agreed to put in place in 2014 to protect against just such a rezoning. And in the midst of that, he even told concerned residents that it was foolish to think the township wouldn't keep its promises about permanent land buffers — when exactly that was about to happen, but they didn't know it at the time.

The story starts about 30 seconds in to the video. There is also an image of some of the key 2014 documents creating the permanent buffer that Mr. Connor didn't mention below.

(Tom James led the Zoning and Board of Zoning Appeals fights to stop the buffer-busting tower and then to stop the developer's backup plan to put a 166-space parking lot where homes once stood.)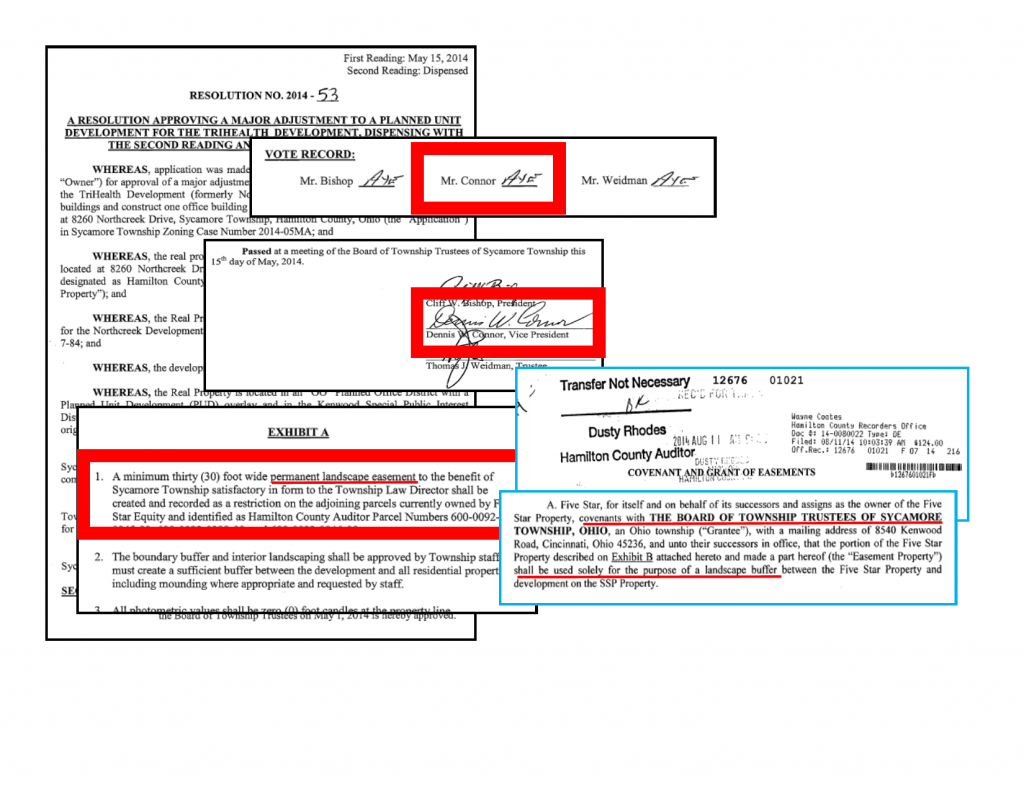 The Massive Urban Project and the Looming Kenwood Traffic Nightmare
Despite Township Zoning Commission denial, County Planning Comm. denial, the County's warning it will cause a Kenwood Rd traffic nightmare, residents' objections, and the developer's refusal to downsize it, Mr. Connor approved a 1 million square foot MASSIVE URBAN PROJECT just south of Jewish Hospital. Now he's working to give the developer $$ millions in tax-breaks and subsidies–PLUS A 6-LEVEL PARKING DECK. MORE DETAILS IN THE CINCINNATI ENQUIRER COVER STORY BELOW
Wasteful and Destructive Spending
Denny Connor voted for the KENWOOD ROAD MEDIAN BARRIER, which is harmful to nearby businesses and has little practical or safety benefit. We've seen some adjacent businesses fail since then, and others are moving because of it, including Graeter's. But that wasn't the end of it — Mr. Connor doubled down and recently spent $68k+ for expensive landscaping work on top of it too. And the strangest part of all this: the Township doesn't even own Kenwood Road; it is county-owned and county-maintained.

And now Mr. Connor and his patron, Tom Weidman, want to expand our local government, too. They want to add a Township building permitting and inspection department, which will add to our payroll and duplicate services we're already taxed by the county for it to provide. So much for fiscal conservatism…